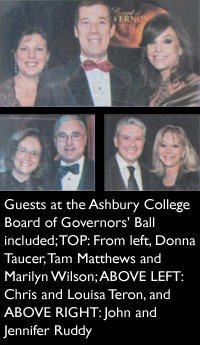 The auction catalogue for Ashbury College's 8th Annual Board of Governors' Ball was like a good book: it was hard to put down. There were once-in-a-lifetime trips and fabulously hosted dinner parties to read about. Looking particularly nice was the week-long stay at two deluxe homes in the French Riviera with pools, tennis court and housekeeper.
The black-tie dinner and auction was expected to raise more than $250,000, with most of the funds directed toward student bursaries and scholarships at the Rockcliffe Park private school.
The ball was again sponsored by leading real estate agent Marilyn Wilson. Other big sponsors includedJeff Mierins of Star Motors and John Ruddy of Trinity Development (one of the players in the proposed Lansdowne Park revitalization project).
Spotted at the cocktail reception were ball committee chairwoman Donna Taucer, the school's headmaster, Tam Matthews, and the board of governors' vice-chairman, Chris Teron of Teron Inc.