BY MARILYN WILSON, THE OTTAWA CITIZEN     MARCH 6, 2014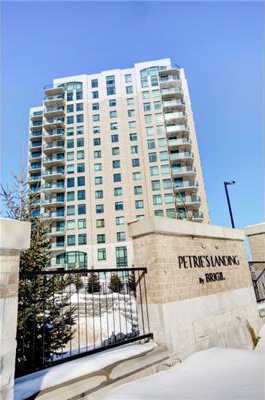 OTTAWA — Brigil Construction's recent revival of a central condo site dormant since last summer prompts me to turn the spotlight on this well-established builder, who has been quietly building in the National Capital Region for almost 30 years.
Founder Gilles Desjardins was just 19 years old when he started his own business in 1985 in Gatineau. Many years later, he now boasts an extensive network of subcontractors, a team of 125 employees and has built more than 7,000 residential units on both sides of the Ottawa River.
One of Brigil's most recent projects is the former Rhombus Tower development launched last spring by Tega Homes across from Tunney's Pasture. The 32-storey tower is being renamed 121 Parkdale.
"(It) speaks to the address of the building. Unique, simple, elegant," says Rui Perdigao, Brigil's vice-president of business development.
With this development and others, Brigil caters to everyone from singles and young professionals to downsizers and large families. In each of the company's condo buildings, units are between 459 and 1,447 square feet and bear Brigil's attention to detail and quality materials. The company aims to think long term so that each Brigil community can "appreciate with time," says Perdigao.
" 'Proud to build a better quality of life' isn't just Brigil's motto; it's the backbone of its commitment to helping condo owners benefit from the company's depth of experience and expertise."
What project is the company most proud of?
There are two, according to Perdigao: Domaine du Vieux-Port in Gatineau and Petrie's Landing in Orléans.
The Domaine du Vieux-Port project came about when Desjardins "was looking for a place he could call home and raise his two boys," Perdigao says on Desjardins' behalf. While boating on the Gatineau River, Desjardins looked around and decided that this was the place for his dream home and built a community around this idea.
As for Petrie's Landing, Perdigao says it's the "only project that combines economic development and beauty in perfect harmony." A mixture of condo towers, low-rise buildings and commercial space, the project amounts to a $650-million investment that's expected to be completed by 2020.
One of the towers "will offer an urban rooftop lounge, the first of its kind in the area, which will include a swimming pool, spa, outdoor lounge, gym and relaxation area," says Perdigao, calling it "resort living." To bring this luxury development about, Desjardins has worked with Ottawa Mayor Jim Watson and Councillor Bob Monette to develop the commercial component, which is expected to bring 2,100 jobs to the area.
Is the Ottawa condo market overbuilt?
"I would not necessarily say it is overbuilt, but perhaps the question is: Are builders listening to what clients want?" says Perdigao. "Although the market has many new projects that have been launched this past year, our sales continue to increase. We believe that, if we listen to the communities we build in and respond to what customers are looking for, we will continue to grow and sell.
"Many people are looking for high-end units with no upkeep and condos are an attractive option. I think that the low interest rates are also allowing consumers to continue to make new home purchases that will still provide a return on their investment in the future."
Indeed, Brigil makes a business out of predicting peoples' needs and this skill has facilitated the company's success.
Marilyn Wilson has been selling real estate for more than 24 years and owns Marilyn Wilson Dream Properties Inc. Brokerage, an Exclusive Affiliate of Christie's International Real Estate. She can be reached through dreamproperties.com or follow her on Twitter@marilyn_wilson.
© Copyright (c) The Ottawa Citizen