BY MARILYN WILSON, THE OTTAWA CITIZEN     January 23, 2014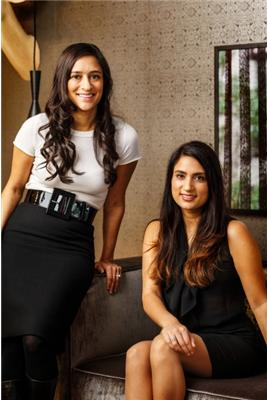 An interview with Richcraft's second generation of the Singhal family
OTTAWA — The latest in my series of interviews with prominent local developers turns to Richcraft Homes' Angela and Monica Singhal. These bright young women are the daughters and co-workers of Kris Singhal, who started the real estate development company more than 30 years ago. I spoke with Angela and Monica about what it's like working with their father, what defines the Richcraft brand and condo living.
Q: What are your favourite features of condo living?
Angela Singhal (AS): To me, condo life is about living, working, and playing in one location — being able to walk to work, shops and restaurants — and about having entertainment spaces and a professional gym under the same roof where you live.
Monica Singhal (MS): It allows for maintenance-free living in a safe environment.
Q: If you built your own Ottawa condo to live in, what design elements would you be sure to include?
MS: A bright, open-concept, two-storey loft with a wall of chalkboard to be creative (and) unique spaces to display art and lighting features. And a view of our beautiful city.
AS: My dream condo would have floor-to-ceiling windows, a balcony and a beautiful, open-concept kitchen for cooking and entertaining.
Q: Did you always know you wanted to be part of the business?
AS: I knew I would join Richcraft immediately following university. It is an honour to be part of a company that builds gorgeous homes and fosters amazing relationships with its homeowners.
MS: As a family-owned and operated business, Richcraft has always been a part of me, but I did live in Toronto for a period of time where I gained valuable work and life experience. After having a couple of kids, my dad suggested I move back home and work for the company. My husband and I agreed Ottawa would be the perfect place to raise our family while helping my father grow the business.
Q: What would you say are the defining traits of this company?
AS: The quality of the building materials and finishings that go into each home … "rich craftsmanship," so to speak.
MS: The quality of our product combined with excellent customer service.
Q: Two of your newest projects are The Bowery on Bay Street and Galleria II on Besserer Street. How would you describe the different kinds of people or markets these projects will appeal to?
MS: All of our condo projects are designed to appeal to a wide demographic. Young professionals are often drawn to live downtown, but the same can be said for older couples who want to be close to amenities like theatres and restaurants. With that in mind, Richcraft offers suite layouts and packages to accommodate any age group.
AS: Regardless of location, our condos are designed to offer something to every kind of buyer.
Q: Your social media platform includes a lifestyle blog and a Twitter account. How would you say these contribute to your business?
MS: It allows us to connect with our homeowners like never before, and share our passion for home design with customers. In turn, they share their ideas and desires with us. Social media is a must-have tool for marketing new projects and promoting the company through online contests that are designed to be fun.
AS: Richcraft (also) utilizes Facebook, Pinterest, Instagram, Google+, LinkedIn, and YouTube. We are the only builder in Ottawa with a complimentary Apple Store app, which makes finding sites, sales centres and models incredibly easy when you're mobile.
Q: What are the most luxurious custom features you can offer to condo buyers?
AS: Amenities such as The Bowery's Club B rooftop lounge and outdoor terrace; and designer-inspired finishings, like custom kitchen islands and European cabinetry and appliances.
MS: It is the lifestyle we create throughout the overall building. It begins with the design of the lobby entrance, hallways and amenity spaces. Then … (continues) in the suites … (through) high-quality finishings and ensuring superior workmanship from start to finish.
Q: What does a typical day at work look like for you?
AS: Every day I balance work and mommy life and no one day is the exactly same as the next where my tasks are concerned. The only constant is the great staff I have the pleasure of working with.
MS: (Mine) begins with kisses and chaos: getting three kids out the door for school, catching up on worldly news, and driving to work. I'm still learning, so there are many meetings to attend with dad, reports to study and a lot of attentive listening to do.
Q: It sounds like you do many different types of tasks during the day. What are your favourites?
MS: Being part of the design process for a new project.
AS: The time I get to spend with my dad.
Q: What is the greatest impact/influence you have had on your father since joining the company?
MS: You will have to ask him … If anything, we are helping him better understand the next generation of homebuyers and condo owners.
AS: My dad has always loved his job and loved his team, but I like to think Monica and I brighten his day even more.
Q: What is the greatest advice your father has ever given you?
MS: Be positive. There is a solution for everything.
AS: Put family first, and not just our family, but (also) the families of our staff and of those who buy our homes; we are grateful for all of them.
Q: How about the greatest advice your mother has given you?
MS: Be humble. (Both) our annual trips to India growing up and watching my parents give back to the community make my sister and me grateful for what we have every day.
AS: To give back to the community, in ways that better the lives of children and families.
Marilyn Wilson has been selling real estate for more than 24 years and owns Marilyn Wilson Dream Properties Inc. Brokerage, an Exclusive Affiliate of Christie's International Real Estate. She can be reached through dreamproperties.com or follow her on Twitter@marilyn_wilson.
© Copyright (c) The Ottawa Citizen