BY MARILYN WILSON, THE OTTAWA CITIZEN     November 28, 2013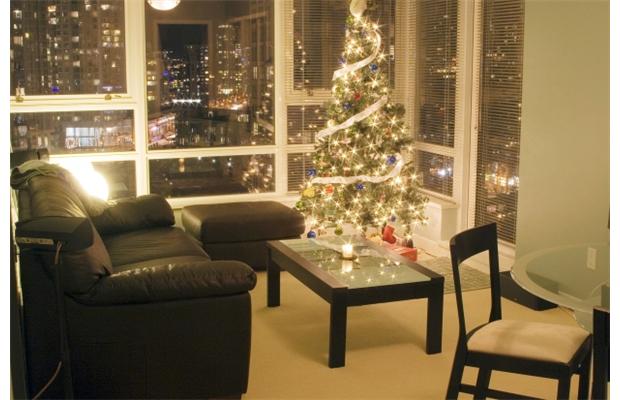 OTTAWA — It's beginning to look a lot like that time of year. As the twinkle lights are tacked up, the thermometer drops and the snow starts to appear, it's time to consider your holiday plans. Though you may not think your Christmas traditions will change with condo life, the configuration of condo living may alter some aspects of the celebration.
For instance, the limited storage space in a condo unit will influence the way you decorate. And, while a condo Christmas party is a delightful way to celebrate the holidays, there are certain logistical details to consider when hosting an event in this space.
THE TREE
Many families have a Christmas tradition of picking out a tree together and hauling it home. This becomes somewhat more difficult when you are not going from garage to living room, but rather from parking garage to elevator to condo unit.
This is why it's important to plan the time you pick out your tree around when the service elevator will be free. You may also consider a Christmas tree rental service such as the one offered by Fallowfield Tree Farm. This service enables you to have a real tree delivered and picked up after the holiday, thereby saving you time, energy and exasperation.
If you don't mind swapping out a real fir for a fake one, easier self-transport is guaranteed, as the artificial version can be disassembled into pieces. Despite the fact that it's cleaner, an artificial tree requires storage throughout the rest of the year, which may be a disadvantage for owners of units. However, it's also more environmentally friendly than the alternative.
Whichever you opt for, be sure to take measures for proper fire safety. This means keeping real trees watered rather than dried out, keeping candles far from trees and ensuring other decorations — like stockings — are far from your fireplace.
TYPES OF EVENTS
Though cocktail and dinner parties are very popular this time of year, other events can also be a lot of fun. I am reminded of my daughter's middle school and its annual holly tea, a fun idea for an alternative Christmas party.
Instead of the usual events, host a tea with festive brews such as the holiday-themed ones David's Tea offers. My personal favourites include Secret Santa and Sleigh Ride.
Holiday-themed activities, like gift exchanges, ugly sweater parties (where guests dress in cosy pullovers) and sleigh rides are wonderful additions to any event this time of year. Sleigh rides in particular are great for children, especially when your condo lifestyle limits the accessibility of outdoor space. You can even entertain the parents at home while the kids take a chaperoned ride.
Brunch is better when enjoyed with those you love, so consider hosting a potluck Christmas brunch with your family or, better yet, why not start a new tradition with your neighbours? If you find this is too overwhelming, then stay smaller and just invite those neighbours on your floor. If you're not much of a cook, consider picking up bagels from Ottawa Bagelshop or Kettleman's Bagels. For those who love to cook, check the Food Network's bountiful store of holiday brunch recipes (foodnetwork.com).
Who knows, you may be starting a tradition for condo potluck get-togethers throughout the year.
Should you want to host a holiday cocktail or dinner party, think of using your condominium's party room. Try to book this well in advance. You may want to consider reserving a date for a new condo's party room in your condo sales agreement, if you are planning on hosting a special anniversary or special birthday party or even next year's Christmas event. Whatever you plan for your holiday, happy hosting.
Marilyn Wilson has been selling real estate for more than 24 years and owns Marilyn Wilson Dream Properties Inc. Brokerage, an Exclusive Affiliate of Christie's International Real Estate. She can be reached through dreamproperties.com or follow her on Twitter@marilyn_wilson.
© Copyright (c) The Ottawa Citizen