BY MARILYN WILSON, THE OTTAWA CITIZEN     MAY 1, 2014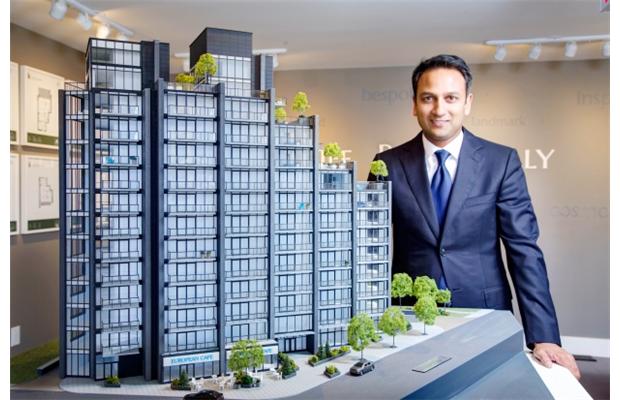 OTTAWA — There is a new luxury condo development in Ottawa called The Azure. Located at the intersection of Woodroffe Avenue and Richmond Road, just past Westboro, The Azure is being developed by Azure Urban Developments Inc.'s, John Thomas, who is bringing sophistication to the Ottawa design scene. What struck me about The Azure was the absolutely stunning design concepts they have incorporated into their one- and two-bedroom condos. They're worth a look if you are in the market.
Ottawa's Tanya Collins is the interior designer who translated Thomas's fresh ideas into functional and beautiful condos. Thomas has brought a level of international flair to the project, inherent to his extensive travels. Over the years, he has lived in some of the world's most beautiful places, from California to Abu Dhabi. We are lucky that Thomas returned to his beloved Ottawa to develop his first condo project. Here are some questions Thomas answered about The Azure.
Q: In your opinion, what is the evolution of the condo market in Ottawa?
A: We believe that quality will define the market. Buyers will seek out quality and that is what The Azure offers. We also believe that Ottawa buyers are willing to pay for space and quality.
Q: Your design is very different from most condos and the layout is interesting. What type of buyer are you targeting?
A: We believe our building will attract the end user and not investors that want to flip or rent their properties. The Azure is not following the investor model. Our customers are the actual owners who will be part of a condo community of similar people. We are able to attract these buyers with our high-end finishes and our well thought out spacious layouts.
Q: I was delighted to find your ceiling height will be 9.5 feet in your two-bedroom condo and nine feet high in your one-bedroom condos. What is your design philosophy?
A: The Azure brings the best of international design to Ottawa. We hired the award-winning international architects, PLP Architecture, from London, England, and our suite layouts came from layouts we had liked in New York, London and Kuala Lumpur. Our philosophy is to create public space at the front portion of the condo unit and private space at the back portion. That is why we separated the toilet from the master bedroom ensuite bathroom. It acts as a powder room for your guests as we installed an extra sink, this way we are able to keep the owner's bathroom and bedroom space completely private.
Q: How has your international travel affected your sense of design as it relates to this particular development?
A: I worked for an international company and have travelled the world. The company was involved in luxury real estate and hospitality. Over the years I met some of the world's best designers, architects and chefs. As a result of my experiences I wanted to create a development that offered a quality luxury lifestyle.
Q: What is different about your building compared to other luxury condos?
A: Our basic units offer marble countertops, subway tiles from counter to ceiling, soft-close doors and beautiful five-inch-wide walnut planks floors. This is standard.
Q: When is your building going to be completed and do you intend to have any retail space? If so what kind of retail?
A: Current plans are to break ground this summer and finish December 2015. We have 93 units and four retail bays. The retail space will definitely complement the building. We are going to have a bistro/market where you may buy wonderful fresh ingredients. We also are considering a high-end bakery, along with a pharmacy.
Q: What is the most challenging part of condo developing in Ottawa?
A: I think the most challenging part would be appealing to the end user owner as it takes more time to deal with an end user than an investor. Because this is an important aspect of our development and I am totally involved in the process I am at the sales centre daily.
The Azure
What: A 14-storey condo tower with 93 one- and two-bedrooms units at Woodroffe Avenue and Richmond Road
Prices: Starting from $280,000 for 700 square feet to $1.3 million for 2,100 square feet
Sales centre: 929 Richmond Rd.
Hours: Monday to Thursday, 11 a.m. to 6 p.m.; weekends, noon to 5 p.m. Closed Friday.
Information: 613.234.4346, theazure.ca
Marilyn Wilson has been selling real estate for more than 24 years and owns Marilyn Wilson Dream Properties Inc. Brokerage, an Exclusive Affiliate of Christie's International Real Estate. She can be reached through dreamproperties.com or follow her on Twitter@marilyn_wilson.
© Copyright (c) The Ottawa Citizen