BY MARILYN WILSON, THE OTTAWA CITIZEN     AUGUST 24, 2012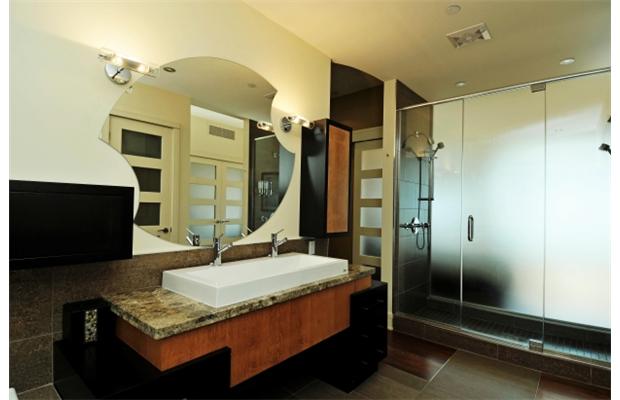 New condo bathrooms are sleek, fresh, exciting. Many developers and designers have been caught using richly textured tiles in taupes, champagnes and putty colours to up the wow factor in this particular room.
There are a couple of differences between the condo bathroom and other loos.
First, condo space may be limited, leaving room for just one or two bathrooms. Often there is no powder room. Plus, you may not have a window as many developers reserve the prime window views for more prominent space such as living rooms, kitchens and bedrooms.
A dim view
If your bathroom has no view, it's important to tailor your lighting to what may inherently be a darker space. If you use your bathroom mirror to apply makeup, think about soft lighting to make you appear to be the fairest of them all. There's nothing more disheartening than feeling beautiful, until you peer at your reflection in fluorescent light and see time etched in your face. Goodbye wrinkles, hello dimmers.
Installing a dimmer will not only let you see yourself in more flattering lighting, it will also help to relax you if you take a bubble bath and keep you half asleep if you need to use the bathroom in the middle of the night. Sconces, chandeliers, halogens or lamps are all wonderful lighting options for bathrooms. Just remember the delight of dimmers.
Breathing room
Equally important to lighting is good ventilation. Whether or not you have a window in the bathroom bringing in natural light and ventilation, a good fan — quiet and efficient — will help ensure the space stays mould-free. Many fans are just too noisy, which can be incredibly annoying, so upgrading to a quieter fan is likely worth the investment. For convenience, you may want to install a fan with a timer so that you don't accidentally leave it on all day.
Jet stream
When it comes to showers, the more jets the better. Think about investing in systems with multiple jets, rain-heads and sprays. Consider the size of your shower and, when possible, make the shower bigger. Remember that this is a place where you spend a lot of time. Your shower should be luxurious and relaxing.
The penthouse at 90 George was designed by 2 H Interior Design and uses the shower wall as a focal point of the master ensuite bathroom. This is an interesting way of bringing more light into the bathroom and making the space feel more open. This particular shower has a sandblasted wall that is shared with the master bedroom.
Curtain call
Glass doors instead of traditional shower curtains are also a fabulous way of making bathrooms feel larger, more open and brighter. If you do opt for a shower curtain check out Zone on Sussex Drive for fun styles. Also note that today's developers are installing bowed shower curtain rods rather than ones that lie parallel to the tub. This gives you more room if standing up to shower or the feeling of spaciousness if lounging in the tub.
Speaking of tubs, think acrylic or porcelain. Air jets or soaking tubs are the most popular today. Gone are the days when water jet baths were desirable as they have been found to harbour bacteria.
bUnderfoot
And when you get out of the tub, make sure not to slip. Floors of matte glazed ceramic tiles will help you keep your feet on the ground. Natural stone floors are high upkeep, but ceramic tiles will do the trick. You can get these in many different textures and styles. Last month at a Montréal tile source, Ciot, I saw ceramic tiles with a faux-wood finish. The new tile, also seen at Astro Design Centre in Ottawa, incorporates rich textures and unusual shapes. New tile trends also include textured ones that are truly fantastic.
Heated floors can be enjoyable and luxurious additions to bathrooms but they are not always possible structurally or economically. However, heated towel racks can be installed in the pursuit of perfection. Not only is it cosy to slip into a warm towel post shower or bath, but these warmers will also extract moisture from damp towels or swimsuits and workout gear.
So when evaluating your choices for your new condo bathroom, remember to think of comfort, glamour, tranquility and safety.
Marilyn Wilson has been selling real estate for more than 23 years and owns Marilyn Wilson Dream Properties Inc. Brokerage, an Exclusive Affiliate of Christie's International Real Estate. She can be reached through dreamproperties.com or follow her on Twitter@marilyn_wilson.
© Copyright (c) The Ottawa Citizen