BY MARILYN WILSON, THE OTTAWA CITIZEN     MARCH 20, 2014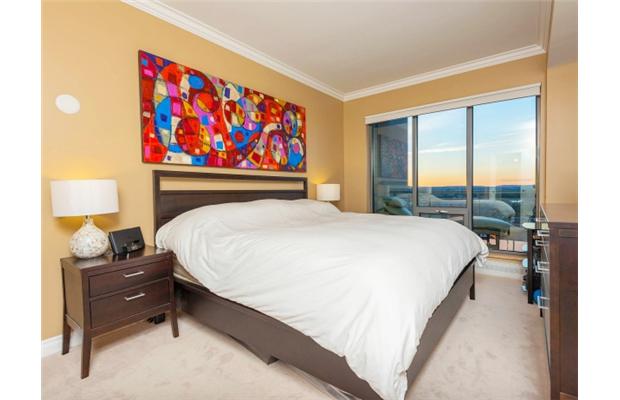 OTTAWA — Whether or not you have a large master bedroom, there are things you can do to make it comfortable, serene and sleep inducing. As condo buildings are most often not situated in quiet residential areas, they can be subject to noise and light. Here are a few things to consider when purchasing your condo or decorating it to ensure peaceful slumbers.
Sound travels up
Investigate the sounds in your condo before move-in day. Choosing a highly developed street or area may seem convenient when you purchase your unit, but could turn out to be an acoustic disaster. Also keep in mind that higher-up units may be noisier, especially those situated close to bridges, tunnels or highways.
Black it out
Darker is better, at least where sleep is concerned. It's likely your condo will be situated in an area with brighter street lighting, as many condo buildings are in urban locales. If that is the case, try to find blackout blinds or blackout curtains to block out the lights. After all, sheers won't do much to help. For larger windows like those of the floor-to-ceiling variety, choose curtains over panelled coverings, as the latter will obstruct your views while curtains can be whisked aside during the day.
When purchasing, consider the shape of the windows in the unit. Will you be able to put a curtain rod in? Are the windows shaped awkwardly, meaning that part of them may be impossible to cover? If so, are these in bedrooms? If such windows are relegated to dining or family rooms, then this is likely not much of an issue.
But keep in mind that awkward-to-cover windows are not a deal-breaker. If you find you are unable to cover certain prominent windows, you can still get a luxurious eyeshade and call it a day. This is a cost-savvy and convenient way of blocking out the light.
Sitting area
I advise against keeping a desk area in your bedroom, but you may choose to create a small and relaxing spot for seating. Desks create mess and remind you constantly of all the work you have to do, while seating areas allow you to unwind and cuddle up.
If you opt for seating, go for comfy sofas or chairs and amp up their cosy factor by padding them with plush pillows and chenille throws.
Low tech
Power down the screens two hours before you head to bed. Instead, opt for a great book or some calming classical music in the background while you indulge in your pre-bed ritual.
Many people like to have televisions in their bedrooms. Though this may sound like a great plan, consider relegating TV to the parts of the house you inhabit when awake. That way, you won't be tempted to watch something late at night or kept awake by the not-so-soothing sounds of technology. Bright electronics before bed can ruin sleep so stay away even from tablet books to help you get to sleep faster. You may also want to listen to an audiobook as a way of helping you unwind.
Accessories
There are other little additions you can make to your bedroom space. Bring in some tea lights or candles to create a romantic and relaxing lowlight atmosphere. If you are afraid of forgetting these or falling asleep in the light of their glow, purchase battery-operated candles instead. These are safe and odourless for those who dislike scents or are allergic.
Pillows, blankets and throws are other great accessories that can take your bedroom from dreary to decadent. Stay away from bright hues and instead use tones of taupes, greys and neutrals to ensure a calming effect.
Whether you are a light sleeper or a heavy one, your bedroom space can always use a little luxury and Zen quotient. Here's wishing you a great night's sleep.
Marilyn Wilson has been selling real estate for more than 24 years and owns Marilyn Wilson Dream Properties Inc. Brokerage, an Exclusive Affiliate of Christie's International Real Estate. She can be reached through dreamproperties.com or follow her on Twitter@marilyn_wilson.
© Copyright (c) The Ottawa Citizen