BY MARILYN WILSON, THE OTTAWA CITIZEN     October 17, 2013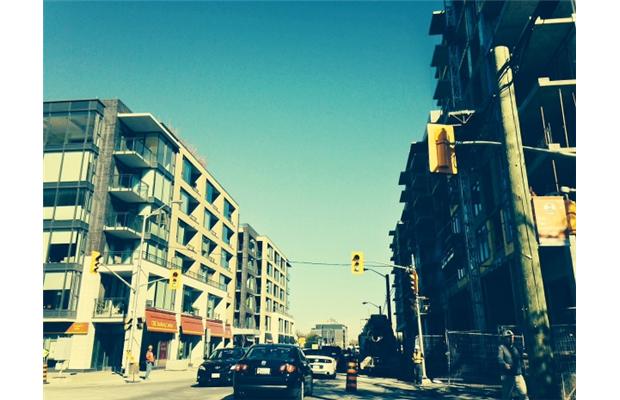 OTTAWA — If rooms with a view are on your condo wish list, you'll have to consider whether your potential choices will have unobstructed views in perpetuity. Driving through Westboro recently, I was startled to see that one condo building under construction appears to have altered the views of other nearby buildings. This is a common problem for condo owners in Toronto, Vancouver and other large cities. It just seems more tolerable in über-urban places like New York and Chicago, where privacy has always been at a premium. The problem with smaller city skylines is that every new development can have a major impact.
That's why when purchasing you must think about the lay of the land. Is this a neighbourhood with a potential for new developments? If many restaurants and hot spots have recently appeared, you can be sure that developers will follow. That is not to say that you should avoid such trendy areas, but rather that you should be cognizant that they may change over time and become denser and your private, light-filled living room might be compromised.
First, let's talk about what a visual obstruction actually is. While you may consider this to be the building located directly across the road from you, there could be many units in that building — or others — that may have a view into your condo during the day or night. For instance, someone on the 20th floor across the street may be able to see into your 14th-floor unit.
This problem is exacerbated by the fact that many of today's condos boast floor-to-ceiling windows, with their developers selling dream views. This dream view can end up costing you far more than you calculated when you factor in the cost of window treatments. The larger the windows, the more expensive the treatments.
The good news, however, is that you can have both your view and privacy by choosing certain treatments — like electronic blinds — that operate in two directions (up and down) to allow the admittance of light. Now you can enjoy your sunset without feeling like you're dining with the neighbours across the street.
Vis-à-vis window coverings, there are many new materials from which to choose, but my top picks are blinds that keep the privacy in while still allowing you to see out. You may save money by opting for manually operated blinds, but you have to consider what will work best for your lifestyle. Analyze the angles of other units in buildings near you. Maybe you will want blinds with more coverage if there is a highrise across the street. If the only other building is lower than your unit, you may instead choose blinds that offer half-closure as well.
Aside from motorized blinds, you may have curtains, drapes, sheers, slats, shutters or simple panels on curtain rods. Like blinds, shutters and slats have the added bonus of allowing light through while increasing privacy.
Recently in New York, I walked the Highline, a relatively new park constructed on a formerly-abandoned railroad suspended above the city. Due to New York's limited green space, the area around the Highline has become a newly resurrected hotbed of commercial and residential activity.
On my walk I was astonished to see a beautiful condo entirely facing the crowds of people enjoying the sunny day on the Highline. You could see exactly what they were watching on TV; it was a cartoon Sunday. Of course, their view would be gorgeous looking out on this trendy green space, but it certainly is another way of living.
If you are undeterred by having your floor-to-ceiling windows uncovered, you may consider using a 3M window coating product that may keep the sun out and add a degree of privacy. You may want to research different products to discuss with your developer.
Sunlight, views and privacy are all things to think about when purchasing your new condo. Make sure to look beyond the view and into the future.
Marilyn Wilson has been selling real estate for more than 24 years and owns Marilyn Wilson Dream Properties Inc. Brokerage, an Exclusive Affiliate of Christie's International Real Estate. She can be reached through dreamproperties.com or follow her on Twitter@marilyn_wilson.
© Copyright (c) The Ottawa Citizen