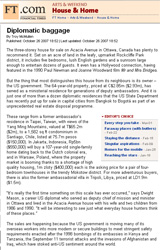 Financial Times
The three-storey house for sale on Acacia Avenue in Ottawa, Canada has plenty to recommend it. Set on an acre of land in the leafy, upmarket Rockcliffe Park district, it includes five bedrooms, lush English gardens and a sunroom large enough to entertain dozens of guests. It even has a Hollywood connection, having featured in the 1990 Paul Newman and Joanne Woodward film Mr and Mrs Bridges.
But the thing that most distinguishes this house from its neighbours is its owner – the US government. The 64-year-old property, priced at C$2.85m ($2.93m), has served as a ministerial residence for generations of deputy ambassadors. And it is just one of more than a dozen diplomatic residences that the US State Department has recently put up for sale in capital cities from Bangkok to Bogotá as part of an unprecedented real estate disposal programme.
These range from a former ambassador's residence in Taipei, Taiwan, with views of the Yang Ming Mountains, valued at T$65.2m ($2m), to a 1,582 sq ft condominium in Santiago, Chile, listed at 75.7m pesos ($150,000). In Jakarta, Indonesia, Rp5bn ($550,000) will buy a 107-year-old single-family home dating back to the Dutch colonial era, and in Warsaw, Poland, where the property market is booming thanks to a shortage of high quality housing, 1m zloty ($400,000) each is the asking price for a pair of four-bedroom townhouses in the trendy Mokotow district. For more adventurous buyers, there is also the former ambassadorial villa in Tripoli, Libya, priced at LD1.9m ($1.5m).
"It's really the first time something on this scale has ever occurred," says Dwight Mason, a career US diplomat who served as deputy chief of mission and minister in Ottawa and lived in the Acacia Avenue house with his wife and two children from 1986 and 1990. "It will be interesting to see just what everyday house hunters think of these places."
The sales are happening because the US government is moving many of its overseas workers into more modern or secure buildings to meet stringent safety requirements enacted after the 1998 bombings of its embassies in Kenya and Tanzania, the September 11 terrorist attacks and the invasions of Afghanistan and Iraq, which have stoked anti-US sentiment around the world.
There have been more than 250 attacks or attempted attacks on US embassies or diplomatic residences since 1975, the State department estimates. Incidents include an incursion by armed Liberian marauders on the grounds of the US embassy residence in Monrovia in 1996 and a late-night rocket attack on the embassy security staff residence in Santiago, Chile, in 1991.
Some 29 sites in 21 countries have been deemed "excess property" and listed with private real estate agents selected by the Bureau of Overseas Buildings Operations, which manages the facilities. About half of are non-residential, including historic embassies and ancillary buildings such as London's immense former Navy Annex in Grosvenor Square, which is on the market for £90m. Chancery buildings in Panama, Nicaragua and Nepal are also being sold.
But it is the diplomatic residences that offer property buffs a rare glimpse at the lifestyles of US emissaries. In Caracas, Venezuela, for example, one sprawling residence, priced at 4.5bn bolivars ($2.1m), sits on more than 2.2 acres and includes a master suite, four bedrooms with private baths, a house manager's quarters and large terraces overlooking a pool. In Abidjan, Côte d'Ivoire (previously the Ivory Coast), the former ambassador's estate has two swimming pools and two tennis courts, while the compound in Mali includes a cultural centre and a snack bar.
"These homes are often the most lavish properties in their towns," says real estate agent Jonathan Lohr, who is marketing the former ambassador's residence in Belize City, following a move by the US embassy and its diplomats to the new capital of Belmopan. The 6,000 sq ft, five-bedroom property is priced at Bz$1.3m ($650,000) and sits in North King's Park, one of the most expensive areas in the city. Lohr says he shows the property to prospective buyers about once a week and has had several "serious offers" from European, US and Middle Eastern buyers.
Russell Freeman, a former US ambassador to Belize who lived in the house with his wife, Susan, from 2001 to 2005, describes it as "pretty amazing by our standards". The master bedroom, with its walk-in closet, private verandah and hot tub, was "wonderful to have at our disposal." But his favourite feature was the well-groomed gardens and grounds, which were ideal for receiving local dignitaries and visiting diplomats. "During functions, we'd sometimes just open up the doors at the back of the property and let people just enjoy the place," he says. "It was interesting to watch folks just wander around after having a few drinks."
Friends and family from Freeman's native North Dakota also loved the house – and its tropical location. "Needless to say, my wife and I were very popular once winter rolled around on the prairie," he says. To make it feel more like home, they brought their cat and a painting of a plowed field and farmstead.
Although the structure was built in thick, white concrete blocks and has both security fencing and guard tower, Freeman says it never felt imposing. The only real problem was termites; exterminators had to be called "a number of times". "We didn't really mind it so much but it's the kind of thing that can scare off prospective buyers," he says.
The US is not the only country looking to downsize its diplomatic property portfolio. The Canadian government recently put two properties on the market in Europe: the Canadian ambassador's residence in Dublin, an eight-bedroom pile surrounded by nearly nine acres of parkland in Killiney overlooking Dublin Bay, listed at €17m, and an eight-storey mansion in London's Grosvenor Square, directly opposite the US embassy, that could be converted into a hotel or luxury apartments. The asking price for the latter is £300m and, according to estate agents handling the sale, more than 20 property developers and British and overseas financiers have expressed interest.
The UK is meanwhile reviewing the possible sale of hundreds of homes for diplomats and other staff in an effort to cut costs. (The residences of the High Commissioner to South Africa in Pretoria and Cape Town are said to be on the list.) And last year France put dozens of historic properties in Paris and the provinces on the market, including an historic townhouse facing the Bois de Boulogne that once belonged to the aristocratic Noailles family. French billionaire Vincent Bollore paid €10m for the property and Russian billionaires have reportedly snapped up some formerly government-owned villas on the Cote d'Azur.
What separates the American sales from these others is the scope and size of the real estate on offer. The US has one of the largest and most well-funded diplomatic property portfolios around the world, with more than 3,500 buildings in 193 countries, including 264 embassies and consulates, estimated to be worth $12bn in total, according to the Bureau of Overseas Buildings Operations. It is also known to spend handsomely on diplomatic residences and embassies, historically viewing them as lavish platforms for wining, dining and deal-making.
Not all of these houses are expected to fly off the market, however. Some have been left unoccupied for years and are now in poor condition. Agents who have seen the former US ambassador's residence in Taipei, a focal point for celebrity, political and cultural life during the 1960s and 1970s, for example, say it needs updated electrical systems and a more modern kitchen, as well as a fresh coat of paint. "I have good memories of my use of that house and it has an interesting history," says Ray Burghardt, a former US envoy to Taiwan who used it as a weekend retreat between 1999 and 2001. But "my immediate successor didn't share my appreciation for the place."
Other properties might be overpriced. The Belize house was, for example, originally listed at Bz$1.4m and, although that has dropped to Bz$1.3m, even Lohr acknowledges Bz$1.2m is "probably more reasonable". In Ottawa's Rockcliffe Park, only 11 homes valued at C$2m or more have sold in the past two years, according to Marilyn Wilson, the broker selling the Acacia Avenue house. And, while she still thinks she can get C$2.8m, she acknowledges "the market will ultimately tell you if it's priced too high".
Mason, the diplomat who lived in the house, says he's confident buyers will pay up for its large sun room, garden and vast but comfortable layout. "It's the nicest place we've ever lived," he says. "It was large enough to hold receptions for hundreds of people but it was also cosy enough for a single family." He and his staff used to host about 1,000 people a month for lunches and dinners in the residence, making full use of its commercial kitchen and large dining rooms.
The most difficult property to unload might be the compound in Tripoli, which measures 7,000 sq ft, with a pool, changing facilities, staff quarters and huge gardens. Vacant since 1980 and the site of numerous anti-American protests, it needs "internal renovation" and has "title issues", which, according to the property prospectus, the State Department is "working through".
© The Financial Times Limited