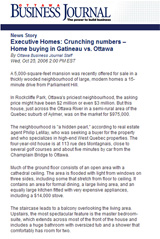 Ottawa Business Journal
A 5,000-square-feet mansion was recently offered for sale in a thickly wooded neighbourhood of large, modern homes a 15-minute drive from Parliament Hill.
In Rockcliffe Park, Ottawa's priciest neighbourhood, the asking price might have been $2 million or even $3 million. But this house, just across the Ottawa River in a semi-rural area of the Quebec suburb of Aylmer, was on the market for $975,000.
The neighbourhood is "a hidden pearl," according to real estate agent Philip LeMay, who was seeking a buyer for the property and who specializes in high-end West Quebec properties. The four-year-old house is at 113 rue des Montagnais, close to several golf courses and about five minutes by car from the Champlain Bridge to Ottawa.
Much of the ground floor consists of an open area with a cathedral ceiling. The area is flooded with light from windows on three sides, including some that stretch from floor to ceiling. It contains an area for formal dining, a large living area, and an equally large kitchen fitted with very expensive appliances, including a $14,000 stove.
The staircase leads to a balcony overlooking the living area. Upstairs, the most spectacular feature is the master bedroom-suite, which extends across most of the front of the house and includes a huge bathroom with oversized tub and a shower that comfortably has room for two.
The house has seven or eight bedrooms, if you count the nanny suite over the garage with separate entrance, and the large finished basement that has served as rec room and play area for the sellers' three grandchildren.
The house shows stunningly well, as I found when given a tour by owner Glynn House Murray. She is a designer, originally from Texas, who gave the home an extensive makeover after purchasing it with her Canadian husband, Robert Murray, a wholesale supplier of office equipment. The couple plans to move to Hudson, Que.
Mrs. Murray estimates she spent close to $300,000 in the past year or two enhancing the home's interior, which she decorated in what she called "traditional style." The style of the kitchen is "Versailles," she said, with cabinets made to look as if they came from the palace of French kings and queens.
Expensive plaster mouldings, added by Mrs. Murray, give extra elegance to many of the rooms. The house has a heavy double front door, of cedar and glass. The three-car garage has matching cedar doors.
It's difficult to compare real estate prices on the two sides of the Ottawa River, because there are so many variables.
But Mr. LeMay says he believes "you get between 25 and 30 per cent more house for your money" if you buy on the Quebec side of the Ottawa River.
One of the difficulties of any such comparison, he points out, is that it may not be possible to find anything in Ottawa that compares with the Aylmer property.
The Aylmer house is just a few minutes' drive from downtown Ottawa, he says. But on the Ottawa side of the river, most semi-rural areas of such large homes are at least twice as far from the heart of the city.
Rockcliffe Park, of course, is a special case. It is even closer to Parliament Hill than the $975,000 Aylmer house. Marilyn Wilson, the real estate agent who handles the sale of many expensive homes in Rockcliffe, has estimated that buyers may have to pay three times as much for a home in Rockcliffe as they would in other parts of the capital region.
Higher income taxes in Quebec deter some Ottawans from relocating there. But Mr. LeMay argues that higher Quebec taxes are far outweighed by savings in house prices. He would seem to have a point, if he is correct in saying that a home costing, say, $750,000 in West Quebec might cost $1 million in Ottawa.
Tax differences between Ontario and Quebec also depend on individual circumstances. And it's not just differences in income tax rates. There are also factors such as health insurance costs and child benefits that vary between the two provinces.
The extra income tax burden imposed by the Quebec government depends on one's level of taxable income. The biggest difference between the two provinces in marginal tax rates is on taxable income between about $60,000 and $70,000.
People with a principal residence in Quebec pay 42.37 per cent tax, federal and provincial combined, on taxable income in that range. In Ontario, the rate is 32.98 per cent on any taxable income between $61,206 and $69,517.
There is little difference in property taxes between Ottawa and Gatineau – that is, on homes assessed at about the same value. Of course, if you can find a lower-priced home in Quebec than you could in Ontario, you would pay less in property tax, since this tax is tied to a home's value.
© Ottawa Business Journal