Tracing its history to the early 19th century, Canada's Rockcliffe Park began as a neighborhood of summer cottages, and has steadily grown into a picturesque, park-like community. Large lots, mature landscaping and stately, historic homes characterize the neighborhood in Ottawa, Ontario. The Old Village and New Village are centered around McKay Lake and showcase a variety of architectural styles.
A historic neighborhood, Rockcliffe Park has been declared a Heritage Conservation District, and its Residents Association ensures that the neighborhood retains its village atmosphere.
"Buyers come to Rockcliffe Park for its tranquility. It's a beautiful, beautiful neighborhood," said Tony Rhodes of Rhodes Barker Luxury Real Estate.
Known as much for its gorgeous landscapes and views as for its notable residents, including ambassadors and high-ranking politicians, "Rockcliffe Park isn't like any other community in Canada," said Marilyn Wilson, owner of Dream Properties/Christie's International Real Estate for Ottawa and Eastern Ontario.
"It's a cross-section of the world," Ms. Wilson said, adding that the neighborhood is known for its real sense of community. "The quality of life, schools, safety, and friendships are what keep people connected here."
Boundaries
Rockcliffe Park is northeast of downtown Ottawa along the Ottawa River, the natural western and northern boundaries of the neighborhood. It is bordered to the east by Birch Avenue. Hemlock Avenue and Beechwood Avenue mark the border between Rockcliffe Park and Vanier, and Maple Lane and Princess Avenue mark the neighborhood's southwestern boundary with New Edinburgh.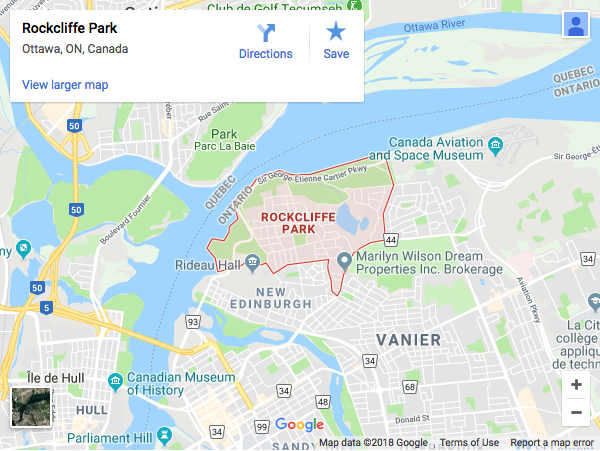 Price range
Rockcliffe Park and the Glebe are the neighborhoods commanding the highest prices in Ottawa. The average sale price in Rockcliffe Park last year was just under C$1.8 million (US$1.5 million), according to the Ottawa Real Estate Board. Buyers can expect to pay an average of C$2.3 million (US$1.86 million) for a turnkey luxury home, Ms. Wilson said. The highest priced home sale in Ottawa last year was in Rockcliffe Park, and it sold for C$3.625 million (US$2.9 million).
For the past two years, there has been considerable demand in the Rockcliffe Park rental market, Ms. Wilson noted. Average home rent is C$10,000 (US$8,105) per month, although some are rented for as much as C$25,000 (US$20,264) per month.
Housing Stock
Older, more traditional, grand homes are found in the Old Village on the west side of Rockcliffe Park, while more contemporary homes are found to the east, in the New Village.
Large homes line winding, walkable streets, as curb appeal, refinement, and serenity characterize the neighborhood.
What make it unique
Stately, elegant homes on large lots with mature landscaping, proximity to downtown Ottawa by car, and a close-knit, cosmopolitan community make Rockcliffe Park the city's most desirable neighborhood.
Of its roughly 700 homes, about 150 are ambassadorial residences, and the neighborhood (and its residents association) conscientiously maintains the atmosphere of a village. With its high concentration of historic, large, and elegant homes, the neighborhood is certainly very prestigious, but it is also eminently walkable, friendly, and engaged.
"It's the premiere place to live," Ms. Wilson said, adding that buyers are drawn to Rockcliffe Park not only for its warm community but also its proximity to downtown Ottawa, "a diverse, world-class city offering tremendous culture, easy access to the outdoors, safety and the best schools."
Luxury amenities
Rockcliffe Park is entirely residential. Land is at a premium—the last lot sold in 2016— and many homes sit on large, multi-acre lots.
The National Gallery of Canada, the National Art Center, and ByWard Market, a district offering unique boutiques, open-air markets, restaurants, and nightlife, are all within two miles of the neighborhood.
In addition to the Rockcliffe Park Lawn Tennis Club and the Rockcliffe Park Community Centre, many year-round outdoor activities are easily accessible nearby. The Gatineau Hills, offering hiking and skiing, are 15 minutes away, in addition to biking and walking paths along the Ottawa River. In warmer months, residents can take advantage of the Ottawa River for sailing and rowing, and in winter, the nearby Rideau Canal is transformed into the world's largest skating rink.
One of Rockcliffe Park's most valuable features is "proximity to the schools," Mr. Rhodes said. In addition to Rockcliffe Park Public School, and elementary school, two private, International Baccalaureate World Schools are located in Rockcliffe Park. Elmwood School is top-ranking day school offering kindergarten–12th grade education for girls, while Ashbury College is a co-ed day and boarding school for children grades 4–12. "Both the Elmwood School and Ashbury College are in the Old Village, so they're within walking distance" for many of the neighborhood's children, Mr. Rhodes said.
Who lives there
Ms. Wilson and Mr. Rhodes both noted that many buyers are attracted to Rockcliffe Park specifically because of its schools.
A number of embassies have established their residences in Rockcliffe Park due to its quiet, beautiful, tree-lined streets and its proximity to Ottawa's Parliament Buildings.
The official residences of the ambassadors from the United States, Japan, Korea, India, Columbia, Spain, Austria and many others are all located in Rockcliffe Park.
As an upscale enclave in a capital city, Rockcliffe Park is a neighborhood of quiet wealth, where "you really get to become friends with people from all around the world," Ms. Wilson said. "It's a very social community, everybody really mixes. From the moment you arrive, you sense it's something special. It's a place where you see people engage with each other."
Notable residents
Sussex Drive, leading to Rockcliffe Park through neighboring New Edinburgh, is also where the official residences of both the prime minister and the governor general of Canada are located, at 24 Sussex and Rideau Hall, respectively; Prime Minister Justin Trudeau and his family rented a home in Rockcliffe Park before moving to Rideau Cottage, on the grounds of Rideau Hall. Ms. Wilson noted that the neighborhood is very safe and secure, given the number of ambassadorial residences located there.
Outlook
Around 2016, "It really was a buyer's market," Ms. Wilson said, "but it's much harder to get in [to Rockcliffe Park] now." Mr. Rhodes noted that for homes under C$1.5 million (US$1.2 million), it is currently a seller's market, although he and Ms. Wilson both noted that homes between C$1 million and C$2 million (US$810,540 and US$1.5 million) would likely require renovations— possibly extensive—or even demolition. Above the C$1.5 million mark, the market is becoming more balanced with more homes for sale— and selling.
The average sale price for a single-family home in the city has increased by 7.2% in the past year, according to the Ottawa Real Estate Board. "Ottawa is the city to look to for investing," Ms. Wilson said, noting that relatively low taxes and an absence of restrictions on foreign buyers have attracted interest that had been directed toward Vancouver and Toronto in the past.
As the Canadian capital, Ottawa draws diplomats from all over the world, but increasingly, the city as a whole, and specifically Rockcliffe Park, is attracting younger, more international buyers, including entrepreneurs, young families, and couples. "We're seeing more international buyers than we've ever had," Ms. Wilson said. "It's exciting."
© Copyright (c) Mansion Global