Ottawa Business Journal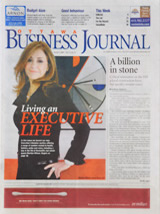 Executive Lifestyles
Whenever a million-dollar residential real estate deal goes down in Ottawa, the chances are good that Marilyn Wilson will be in on it, especially if it's on her home turf of Rockcliffe Park.
Ms. Wilson last year sold more homes in Ottawa's most expensive neighbourhood than all other real estate agents combined – 21 out of 37. She's the number one go-to agent in the city for those with expensive homes to sell.
And her database of potential buyers is such that she frequently collects sales commissions on both ends of the deal. Most real estate agents are happy if they bring the buyer or the seller to the table, meaning they split the commission, which may total five per cent of the sale price.
Ms. Wilson's sales success made her the biggest earner among all Royal LePage agents in the city last year, working out of Royal LePage Performance Realty's central Ottawa office. She ranked ninth in dollar-volume of sales among 14,000 Royal LePage agents across Canada.
She won't divulge the dollar-volume of her sales, and professes not even to know the total value of the homes she sold last year. Nor will she give any hint as to how much she earns. But it's safe to say she is among the highest-earning women in Ottawa in any line of work. She probably earns more than any male real estate agent in the city. But we don't know, since she's in a competitive business that does not compare rankings of agents from different chains.
I spent several hours with Ms. Wilson one winter's day recently, accompanying her in her Mercedes as she roamed Rockcliffe, showing homes to potential buyers and taking an incessant stream of phone calls from her office and her clients.
She had thoughtfully brought me some blackberries in a handsome ceramic mug as a gift at the start of our outing, no doubt knowing that it would be several hours before we would have our first break. She also gave me a pretty card welcoming me "to a day with my clients."
Among her tasks that day was to drop off invitations to friends and clients for the Viennese Ball, a social highlight of Ottawa's winter season, taking place the following weekend.
"My clients are my friends," she explained. Such gestures are part of her success, no doubt.
During her showings that day, Ms. Wilson was equally enthusiastic with clients about a stunning $3.9-million modern mansion and a much more modest, but typical, old Rockcliffe house that had lots of charm but a kitchen that was way too small. Neither property seemed to be quite what the buyer was looking for.
Ms. Wilson showed another couple of prospective buyers an ultra-modern Rockcliffe home that clearly was not what they had in mind. She quickly got an idea of their taste, and took them to see a traditional Rockcliffe house whose owners were moving out that day. She seemed hopeful of a sale there.
In between appointments, Ms. Wilson is on the phone most of the time, driving slowly on the Rockcliffe streets she knows so well, then pulling over to stop while having discussions with a client. She advises a potential buyer that others are interested in the property. She suggests to a seller that it might be a good idea to find a tenant for the property while seeking a buyer. She talks with out-of-town clients about when they will visit Ottawa to see homes she thinks will suit them. And she is often on the phone with Amanda, her "most incredible and dedicated" assistant back in the office, to update her schedule.
There are about 700 homes in the village of Rockcliffe Park, once a separate municipality. Ms. Wilson says she's sold some of them "three or four times over" in almost two decades as a real estate agent specializing in the area, where she also lives.
Ms. Wilson, who looks a youthful 40-ish, proudly says she recently lost "a ton of weight." She won't say at first how much, but later says she dropped more than 40 lbs.
"I just got my act together," she says of her decision last summer to take better care of herself.
Ms. Wilson's 15-year-old daughter Rebecca encouraged her mother to join a fitness program.
"I was addicted to coffee. I have given up coffee, and eat really healthy foods," Ms. Wilson says. "My husband (Allan Wilson, a physician) and my daughter have always eaten healthily.
"I used to be a runner. I'm going back to it in the spring. My life is more balanced now. I have so much more energy, which is hard for me to believe."
I ask Ms. Wilson to explain her success. "I love what I do. People know I really care what they buy, and will do the best job I possibly can for them. My clients know they can always reach me. I don't consider what I do to be work." she says.
Later, she expands on the subject. "I am a people person, but my real skill comes in the negotiations. I try to get both a happy seller and a happy buyer. If you achieve that, you know you have done a great job. It is an emotional time for all parties. I love matching the people. I am extremely organized, and I am the most down to earth person you will meet on this planet. I can zero in and know just what the client is looking for."
Special to the OBJ