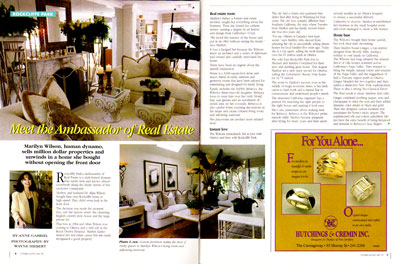 Meet the Ambassador of Real Estate
Marilyn Wilson, human dynamo, sells million dollar properties and unwinds in a home she bought without opening the front door.
Ottawa Living
Rockcliffe Park's Ambassador of Real Estate is a dark-haired dynamo who rarely rests and knows almost everybody along the shady streets of this exclusive community.
Marilyn, and husband Dr. Allan Wilson, bought their own Rockcliffe home at high speed. They didn't even look in the front door.
The decision was made the moment they say the narrow street, the charming English country-style house and the large, private lot.
That was in 1984 and Allan Wilson was coming to Ottawa and a new job at the Royal Ottawa Hospital. Marilyn hadn't started her real estate career but she easily recognized a good property.
Real estate roots
Marilyn's father, a former real estate investor, taught her everything about the business. Then she honed her esthetic senses, earning a degree in art history and design from California's UCLA.
"We loved the exterior of the house and put in an offer without seeing the inside," says Marilyn.
It was a hedged bet because the Wilsons knew an architect and a series of diplomats had owned and carefully renovated the home.
There have been no regrets about the speedy transaction.
Home is a 3,600-square-foot stone and stucco blend of sunny interiors and generous rooms that have been tailored for entertaining and designed for family living.
Family includes the bubbly Rebecca, the Wilson's three-year-old daughter. Rebecca loves to wear hats over her curly blond hair, sun glasses and an assortment of stylish pins on her coveralls. Rebecca is also careful when touching decorations in the taupe and cream colored living room and adjoining sunroom.
Her playrooms are another more relaxed story.
Instant love
The Wilsons immediately fell in love with Ottawa and then with Rockcliffe Park.
The city had a charm and quietness they didn't find after living in Winnipeg for four years. The city was certainly different than Southern California, the state where Toronto-born Marilyn and her family moved when she was two years old.
"For me, Ottawa is Canada's best kept secret," says Marilyn, who moved from admiring the city to successfully selling dream homes for local families five years ago. Today she is a top agent, selling the most homes over the $1 million mark in Ottawa.
She sold four Rockcliffe Park lots to Michael and Marilyn Cowpland for their new and startling glass home. This August Marilyn set a new price record for Ottawa, selling the Cowpland's Buena Vista home for $1.75 million.
The secret to Marilyn's success, even in the middle of tough economic times, is her dedication to hard work and a natural flair to communicate and understand people's needs.
The seasoned California organizer has a passion for matching the right people to the right house and making it look easy.
She's also passionate about making time for Rebecca. Rebecca is the Wilson's petite, miracle child. Marilyn became pregnant after trying for many years and then spent several months in an Ottawa hospital to ensure a successful delivery.
Unknown to doctors, Marilyn re-established her business in the small hospital room and even managed to show a few homes.
Home base
The Wilson's bought their home quickly but took their time decorating.
Then Marilyn found Ginger, a top interior designer from Beverly Hills, during a holiday to visit family in California.
The Wilsons had long admired the relaxed flavor of villa homes scattered across California's Napa Valley. They wanted to bring the simple, natural colors and textures of the Napa Valley and the ruggedness of Italy's Tuscany region north to Ottawa. Ginger blended the two together and then added a distinctive New York sophistication. There is also a strong Neo-Classical flavour. The final result is clean, timeless and calm.
Ginger combined soothing taupes, ecru and champagne to relax the soul and then added dramatic color details in black and gold. Then she designed custom furniture that maximizes the home's tricky spaces. The sophisticated silk and cotton upholstery fabrics have the extra benefit of being kid-proof and immune to Rebecca's busy fingers.
The main wall color is a soothing ivory but details and textures have been added with a hand-painted lime stone effect that suggests a touch of Italy and the Tuscany.
Ginger blended textures, introducing glass, plaster, stone, and cast iron throughout the foyer. In the dining room the large glass-top table, with Cartier cut corners, shares space with the large wood and iron china cabinet. The crystal chandelier is set in cast iron. Ginger then used mirrors to brighten and enlarge the entrance hall while mirrors in the living room marry easily with the ivory marble fireplace.
The two living rooms are the center of family life. This is where friends gather and where the family listens to classical music or to Allan play the piano.
Thick ivory candles set the mood for romantic evenings while plants which fill corners and sit on tables come with names. The tall banana tree is Fernando while a delicate orchid sitting on a bay window table answers to Annabelle.
The Wilsons' home has a seasoned character and warmth, plus all of the luxurious features of construction in the '90s.
Solid hardwood floors, bay windows, and marble surfaces combine with two high efficiency gas furnaces, good insulation, air conditioning, a modern kitchen and bathrooms. When Marilyn and Allan Wilson bought a decade ago, home had been completely renovated by contractor John Dowling.
The master suite was updated with a cathedral ceiling, a large skylight, and a double French doors that open onto a balcony.
The entrance hall was enlarged, and the sun room converted into a second living room.
This is Marilyn's favourite place to listen to Mozart and unwind after a busy day. In the summer she keeps an eye on Rebecca playing outside. She watches leaves change in the fall and snow cover tall pine trees and cedars in the winter. For Marilyn, that's Ottawa at it's best. The hustle of hot California belongs to another life.
© Ottawa Living