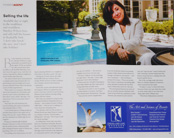 Ottawa Citizen Style
Available day or night to the wealthiest and worldliest, Marilyn Wilson buys and sells half the houses in Rockcliffe Park. "I don't take lunch," she says, "and I don't take holidays"
By any measure, in any market, Marilyn Wilson is a phenomenally successful real estate agent. Of the 49 residential sales worth more than $1 million in Rockcliffe Park since 2005, she's been the agent on 42. And she's on track to bag half the affluent neighbourhood's home sales this year.
The deal of which she is most proud is a complex land swap between the U.S. government and local high-tech entrepreneur Michael Potter that took almost a year of daily negotiations.
"Real estate is in my genes. My father was in the business as a developer and investor and I went everywhere with him when I was a child," she says. "I always knew I'd be in real estate when I grew up."
That said, she still attributes her record-setting sales more to intuition and empathy than to DNA.
"I was always good at fixing people up on blind dates and it's the same sort of thing with my job," claims Wilson, who met her husband on a blind date in Los Angeles.
Fixing up romantically inclined friends, however, is a far cry from matching the perfect house with powerful, time-strapped buyers, most of whom are spending well over $2 million.
"I'm selling more than homes, I'm selling an amazing lifestyle in a neighbourhood that is, literally, a park," she says.
During her 18-year career, she adds, Rockcliffe Park has evolved from a stodgy WASP enclave of older residents into a family-oriented international community.
Given that world-class lifestyles don't just happen, Wilson is a generous supporter of private schools, in part because Elmwood and Ashbury are big selling points with her clients.
She's also on a mission to improve the commercial district along Beechwood Avenue – the southern border of Rockcliffe Park – with an eye to making it a more attractive shopping area.
"I've already called up the people at Whole Foods and asked them to consider coming to Ottawa. They'd make a killing here," she says.
"You've got to sell the whole package."
In selling that vision, she concedes, there are relentless demands. Because her client roster is increasingly international – something she has cultivated through word of mouth in the diplomatic community and by early and aggressive use of a website – she must be available every hour of every day.
"If I hear a ding at 3 in the morning, I'm right there," she says. "I don't take lunch and I don't take holidays."
Wilson says her real gift is hearing beyond what clients say they want and divining what they actually need.
"You have to be able to zero in quickly on what matters to people. And they don't always know themselves," she says.
That process can be complicated, however, by the fact that an increasing number of her clients travel with an entourage of architects, decorators – and even translators – when looking at prospective homes. "These are people who want to customize everything right away and have it exactly the way they want it before they move in," she says.
The most prized features are state-of-the-art security systems, kitchens with built-in top-of-the-line appliances, home theatres, spa-standard pools and hot tubs and "spectacular" master bedrooms with "amazing" ensuite bathrooms that feature steam showers, soaking tubs and heated marble floors.
But in the carriage trade, she notes, there is a distinct absence of emotion when transactions are made.
"It makes it easier to deal with them because if they don't get what they want on their terms, they're on to the next thing right away," Wilson says.
"They know what money can buy."
© The Ottawa Citizen