The Globe and Mail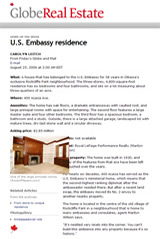 Home of the Week
What: A house that has belonged to the U.S. Embassy for 58 years in Ottawa's exclusive Rockcliffe Park neighbourhood. The three-storey, 4,800-square-foot residence has six bedrooms and four bathrooms, and sits on a lot measuring about three-quarters of an acre.
Where: 400 Acacia Ave.
Amenities: The home has oak floors, a dramatic entranceway with vaulted roof, and large principal rooms with space for entertaining. The second floor features a large master suite and four other bedrooms. The third floor has a spacious bedroom, a bathroom and a study. Outside, there is a large attached garage, landscaped lot with mature trees, dry-laid stone wall and a circular driveway.
Asking price: $2.85-million
Taxes: not available
Agent: Royal LePage Performance Realty (Marilyn Wilson)
The property: The home was built in 1930, and many of the features from that era have been left untouched over the years.
For nearly six decades, 400 Acacia has served as the U.S. Embassy's ministerial home, which means that the second-highest ranking diplomat after the ambassador resided there. But after a recent land swap, the embassy moved its No. 2 envoy to another nearby property.
The home is located in the centre of the old village of Rockcliffe Park in a neighbourhood that is home to many embassies and consulates, agent Marilyn Wilson says.
"It's nestled very nicely into the corner. You can't build this ambience into any property because it's so historic."
It was built for Mrs. Walter Bronson, who turned out to be a rather difficult client, according to local lore. Ms. Wilson says architect A.J. Hazelgrove delayed building the staircase to the second floor until the very last minute to prevent Mrs. Bronson from climbing the stairs and interfering with his work.
In 1990, the home stood in as the residence of characters played by Paul Newman and Joanne Woodward in the film Mr. and Mrs. Bridge.
Ms. Wilson says the home is particularly well-maintained because it has been tended by embassy staff.
"It's a very prominent house," she says. "It's just one of those formidable houses in the community."
Globe and Mail
© Globe Real Estate