BY MARILYN WILSON, THE OTTAWA CITIZEN     October 31, 2013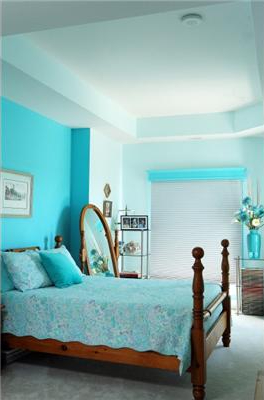 Seven ways to improve your condo architecturally
Condo Scene: Marilyn Wilson offers seven ways to improve your condo's architecture and add some personality.
OTTAWA — Refined details can help elevate your condo from regular to outstanding. Many people think all condos in a building will look the same, given their similar blueprints and that buyers often choose to copy model suites. But by changing a few minor details, you can inject your condo with its own personal style, one reflective of your personality. Here are seven ways to influence the architecture of your condo.
Dividing space in a loft or increasing the wow-factor of a room is made easier through ceiling treatments. Depending on how and when these are used, they can make rooms feel smaller and more intimate or more expansive. Installing a barrel-vaulted ceiling in a bedroom or living room is an excellent way of giving the impression of greater space.
In buildings where you can't do this, create a similar effect by recessing part of the ceiling to form a tray ceiling. In addition to increasing the perception of height, this ceiling detail creates architectural interest and is often highlighted with built-in lighting. Depending on decor, more or less architectural details to the tray can contribute to your overall look.
Key spaces for ceiling details or treatments are powder rooms, bedrooms and kitchens. For instance, a tray or other recessed ceiling treatment over your kitchen island can highlight this culinary focal point.
Adding a cove to the ceiling-wall joint is another simple way of adding interest to a room and making it look more finished. When carefully applied, a cove ceiling draws the gaze to the perimeter of the room, giving a sense of increased space. Again, the level of complexity of the coving needs to be appropriate to the overall level of architectural complexity, and plaster coving is definitely the way to go.
Another ceiling treatment that can have lots of impact is a plaster medallion to highlight your chandelier. This, as well as other plaster detailing, can be off-the-shelf or custom-made to fit your application. Nevado Artistic Plaster (nevadoartisticplaster.ca) is a great source for high-quality plaster detailing. Whatever you choose, just remember that a small recessed detail with trim or a simple cove application can have a huge affect.
Baseboard mouldings
From ceiling to floor: let's move onto baseboard mouldings. Whether or not to use these depends on the effect you want to achieve. If scaled to significant size and elegantly executed in wood, baseboards can warm up your space. If your condo is modern, you might decide to pass on mouldings, or at least use simple versions painted to match the walls.
Although good baseboards can be expensive, they are worth it if well executed. If you are interested in luxurious custom mouldings, visit Mountain Moulding (mountainmoulding.com), which is renowned for its beautiful custom work that is preferred by some of the best architects and designers.

Custom doors
Custom doors can be your entree to luxurious living. Opening or closing a solid mahogany door will continue to delight you for years. Appropriately selected, doors can create a sense of warmth, character and security. To enhance space and reduce noise transfer without disrupting the visual line from room to room, consider French doors. These can be embellished with bevelled glass or etching, if privacy is a concern. When contemplating which door to install, think solid. Also remember that there is no end of possibilities for wood and French doors. For a local custom manufacturer, visit DoorLam (doorlam.com).
Hardware
My philosophy on hardware is the better the quality, the more the user satisfaction. For starters, hinge quality should be matched to that of the doors. A poorly hung door will not feel right year after year. For an elegant touch, add finials to the hinges. These range in style from simple to ornate and should match the style of the condo's interior.
Since you will be in contact with the handles or knobs, check these out carefully for feel and quality. A door knob that does not fit comfortably in your hand may not be the best option for your bathroom door, for instance, as this is an often-used space.
While some fittings are very expensive, you may be able to find similar quality at lower cost if you shop around online. I really love some bathroom knobs from Waterworks (waterworks.com) and they also have superb plumbing fittings.
Rocky Mountain Hardware (rockymountainhardware.com), while very expensive, offers an interesting selection of bronze-rubbed handles. Try selecting one or two for a significant location or important door. This might be supported by a cast of cheaper — but similarly styled — knobs and pulls.
When fitting your doors, do not ignore the knobs and pulls on your drawers and cupboards; these can contribute significantly to a condo's character and quality. Just remember that hardware makes a statement and, although subtle, it can be very effective.
Smoke and mirrors
The use of glass and mirrors can be subtle or used as a statement. Both will increase the perceived size of your space. Glass doors or a glass wall can open up a small space and the reflective qualities of mirrors work wonders to create the illusion of a larger space. We've all been in a restaurant only to discover it's half the size we thought due to the optical illusion of the mirror at the far end.
Think of different glass textures and match them to your requirements. Seed glass and antique mirrored finishes are stylish options and antique finishes have the added benefit of coming in a variety of textures and qualities.
Niches and pillars
Wall niches can be created with flat backs to showcase paintings or with curved backs to highlight sculptures. Subtle lighting should be used to show these architectural details to their best advantage and LED lighting is the most current. Foyers often use niches, pillars and columns to create a sense of importance.
Lighting
I've said it before, but it's worth saying again: Nothing changes up a space faster than lighting. Installed conscientiously, it can create ambience from utilitarian (house cleaning, routine cooking chores, getting ready for work) to romantic (getting cosy with a book, relaxing in the bath or listening to music).
This is a complicated topic that I will revisit in greater detail at another time, but for now I have two suggestions. The first is that multiple, lower-level sources of light are better than a few bright lights, as this gives many more mood-creating options. This is not meant to rule out the judicious use of floor and table lamps. The second is that every light deserves its own dimmer. This will ensure the versatility of a space — from great for doing work to perfect for entertaining.
There are many great architectural details that can enhance your new condo so use at least one to personalize your space.
Marilyn Wilson has been selling real estate for more than 24 years and owns Marilyn Wilson Dream Properties Inc. Brokerage, an Exclusive Affiliate of Christie's International Real Estate. She can be reached through dreamproperties.com or follow her on Twitter@marilyn_wilson.
© Copyright (c) The Ottawa Citizen