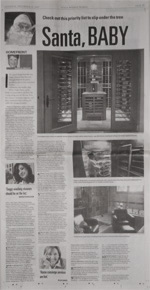 The Ottawa Citizen
Check out this priority list to slip under the tree
It's a good thing Santa has two major elves to help him sort through requests for pricey goodies to put in very expensive homes.
Otherwise, the chubby little fellow might throw up his hands in exasperation and leave the wrong refrigerator by the tree. Even this veteran Christmas magician can't slip a restaurant-style cooling unit under the average evergreen.
Walk-in refrigerators, similar to the stainless-steel monsters that chill shrimp in five-star restaurants, are taking over luxury homes, according to a Royal LePage listing of the top 10 must-haves for multi-million-dollar homes.
With cocooning and home entertaining still in vogue, well-equipped kitchens are mandatory in high-end homes, according to the real estate company's survey of 14,000 agents across the country. These kitchens have multiple ovens, sinks and dishwashers, says Elli Davis, a Toronto-based agent for Royal LePage Real Estate Services who specializes in luxury properties. The 20-year veteran knows the luxury market. She holds the enviable record of being Canada's No. 1 real estate agent for Royal Lepage for 13 years and its top agent in Toronto.
The survey's top 10 home features will likely be tucked into a $3-million or $4-million home with 5,000 square feet of real estate under one roof because million-dollar homes are becoming, well, too commonplace, says Davis, who readily admits her Forest Hill townhome is much smaller and there is no walk-in refrigerator. But she admits the driveway is heated and she retreats to a country home with husband and visiting grandchildren whenever possible.
"I sell these (luxury) homes, I don't live in them," says Davis, who is best business friends with Marilyn Wilson, the real estate queen of luxury homes in Ottawa.
Wilson has been connected to 20 of the top 43 home sales topping $1 million in Ottawa this year. "I sold a house on Soper Place in Rockcliffe for $3 million with a beautiful walk-in refrigerator," she says.
The Soper Place home also boasted seven bedrooms, nine-foot ceilings, a theatre screening room, and rooms for fitness and billiards, says Wilson, who wants to add an 11th feature to the must-have list: a doggy washing shower, hopefully close to a back door.
I must admit our Kanata townhome has a doggy washing shower. It's in the ensuite off our master bedroom. It's where Rocky goes after chasing ducks across thin ice covering the water treatment pond beside the Queensway.
It just happens to be our shower too.
Now, for your holiday entertainment, here's the lineup of luxury must-haves and some affordable Ottawa alternatives:
1 Park and lift: Luxury homeowners spare no expense on their Lexus or Hummer. Avid car collectors, especially in urban homes where lots are cramped, are maximizing their garages by installing car lifts. Keeping a fleet of cars roadworthy is time-consuming, don't you know, so many of these garages also feature indoor car washes.
Ottawa alternative: Wilson suggests putting a hot water tap in the garage.
2 Walk-in refrigerators: Visualize the clunky walk-in freezer in the local butcher shop and you get the idea, says Frank Dagenais of C.A. Paradis on Bank Street. These insulated cold rooms can measure six by 10 feet and come equipped with huge fans and a separate compressor, which can be located in a garage. But beware: These units are far noisier than domestic refrigerators. They are also pricey, averaging about $13,000 for units with baked white enamel doors. Add $1,200 for shelving to hold your jams and milk, and if you are feeling really flush, repeat the design and budget for an adjoining walk-in freezer. Now enough already about food and get ready to contact Weight Watchers come January.
3 Spa-licious: These are no ordinary home gyms, with the elliptical trainer doing double-duty as a hanger. The focus is on complete health and wellness facilities. These are professional-style spas, with steam rooms and massage rooms overtaking the outdated sauna or whirlpool. Yoga and Pilates studios are trumping stair climbers, treadmills and rowing machines.
4 Cheers: Grand wine cellars are often found in big homes in the Toronto neighbourhoods of Rosedale, Forest Hill and Westmount and in Ottawa communities surrounding Greely, Manotick, Kanata and, of course, Rockcliffe and Rothwell Heights. Some pads house individual cellars for red and white wines and the tasting area is equipped with sinks, comfy chairs and small tables. "The tasting rooms are fully decorated," says Davis.
5 At your service: It's common for pricey condos and residential hotels to have concierge services and staff on duty who will fetch guests a bottle of wine or pick up the dry cleaning. Now rent-a-helpers are available in Toronto neighbourhoods. Wendy Davis, no relation to Ellie Davis, has started Zebrano (www.Zebrano.com) in Toronto, with a team of willing professionals who will organize your renovation, book a trip to Greece or deliver fresh flowers every Friday.
Ottawa alternative: Avoid lineups in the produce aisle by going online to various stores, including the Glebe Loeb at www.loebglebe.com. They deliver. You can also buy groceries online at onlinegrocer.ca, the countrygrocery.com, and telegrocer.com. All of them deliver. Drop into locations of Farm Boy and discover the takeout counter, where the food is magnificent, says Wilson.
6 Movie time: These are no ordinary, pokey affairs with a couple of leather recliners and a bowl of popcorn nearby. Upscale media rooms rival theatres at AMC, featuring a theatre-size screen, surround-sound and rows of plush seats to accommodate many friends.
Ottawa alternative: Visit CHEO's lottery home on Tradewinds Drive and snuggle down into the comfy sectional sofa in the media room.
7 Wrap it up: These are specialized rooms for hobbies. In Orlando, Florida, fancy homes come with wrapping rooms and shelves packed with paper and boxed bows.
Ottawa alternative: Enlist the gift wrapping services of your favourite shopping centre.
8 Fully wired: Even homes under $1 million come with structured wiring and video security at the front door and beside the garage. After all, Ottawa used to be Silicon Valley North.
9Going up: Because urban homes sit on smaller lots, designers are installing elevators — or at least the space to install one — to accommodate residents when they no longer want to climb stairs. Ottawa philanthropist Shirley Greenberg's multi-million-dollar townhome by the Rideau Canal has five floors and one very fancy stainless- steel and glass elevator.
10 Heated asphalt: Forget hiring the plowman, folks in upscale neighbourhoods are installing heating coils under the laneway, walk and the garage floor so the snow melts as soon as it hits the ground. Yippee.
Now Santa, baby, would you please tuck a doggy shower under my tree. Rocky's been a very good boy.
Sheila Brady is the Citizen's Homes editor. She lives in a modest, but pleasing townhome with husband Dave, Hobbs, the cat and Rocky, the border collie.
© The Ottawa Citizen