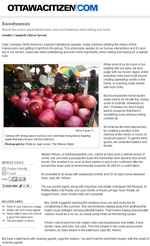 The Ottawa Citizen
Banish the onions and tempt the eyes, nose and tastebuds when selling your home
Dale Carnegie, North America's original motivational speaker, made a fortune extolling the virtues of first impressions and getting it right from the get-go. This philosophy applies to our human interactions and it's also key in our homes, especially when entertaining and even more importantly, when selling and hoping for a speedy sale.
While most of us do much of our judging with our eyes, we also judge with our noses. Again, entire industries have been built around creating appealing scents in the home; or masking nasty smells with nicer ones.
But do prospective home buyers really want to be hit with the cloying smell of synthetic strawberry or lilac? Probably not. And it might lead to suspicion that there's something more ominous being covered up.
So what are the best approaches for creating a positive scent memory in the minds or noses of would-be buyers? To get the fresh goods, we contacted realtors and florists.
Marilyn Wilson, of dreamproperties.com, claims to have such a refined sense of smell, she once told a prospective buyer the home they were about to look at had mould. She smelled it as soon as they walked in and it was confirmed after the prospective buyer paid an environmental inspector $2,000 for a confirmation.
It's essential to do away with unpleasant smells and OK to inject some pleasant ones, says Ms. Wilson.
The successful agent, along with long-time real estate colleagues Bill Renaud, of Re/Max Metro-City Realty, and Joan Smith, of Royal LePage Team Realty, all suggest fresh, clean smells help sell a property.
Mrs. Smith suggests opening the windows if you can and using the air conditioning in the summer. She recommends staying away from anything that might cause allergies among potential buyers. That means baking peanut butter cookies would be a no-no, as would using heavy air-freshening sprays.
A fresh coat of paint not only makes walls and baseboards look better, it also smells clean and new, she says. Pine-Sol cleaner in the sump pump works wonders, as does bleach in the bathroom, says Ms. Wilson.
But have a light hand with cleaning agents, urge the realtors. You don't want to overwhelm buyers with the smell of cleaning agents.
"I tell people not to have any strong odours," Mr. Renaud says, adding sellers should get rid of cooking odours. Cooking with strong spices such as curry and deep-frying leaves lingering smells that many buyers will find offensive.
"The most important thing is to have a clean and fresh scent," says Mrs. Smith.
Ms. Wilson is an advocate of apples and vanilla. She suggests baking an apple, at low temperature, in the oven before a showing. For an extra hit of appetizing sweetness, throw on some vanilla and cinnamon. Baking chocolate chip cookies just before an open house is another yummy idea — just be sure not to burn them.
But limiting your cooking is best because too many competing smells will cause sensory overload. And cooking anything like cabbage, garlic or onions is clearly a mistake. They smell great when you walk into a restaurant, but they are a turnoff if you aren't sitting down to a meal.
It's also important to pay attention to unwelcome odours in the fridge, says Ms. Wilson. Most prospective buyers will open the fridge because it's often included in the sale and they want to see what they're buying. If it doesn't smell fresh and clean, they'll get the impression the house is less than neat and tidy.
"Putting a box of baking soda in the fridge isn't enough," says the veteran sales agent. "You really need to clean your fridge — top to bottom."
When it comes to flowers, Lyn Whyte, co-ordinator and teacher of Algonquin College's florist program, says they offer a pleasing visual and can impart a subtle scent.
"I think flowers are a good investment if you're selling," Ms. Whyte says. "There are a few flowers with nice scents such as freesia."
It's best to buy cut flowers that are all the same species and colour. If you want a big arrangement, buy a bouquet of fresh-cut white, yellow or pink alstroemeria, or white freesia, to create a mono-botanical bouquet.
If you have a series of glass dishes, you can get creative with the mono-bouquets. Buy a few white roses, some stems of white freesia and white alstroemeria and a handful of gerbera daisies and create a series of bouquets to run the length of the table.
But there are a few important things to consider when using flowers. Placement is one. Put them in prominent spots to get the best bang for your buck. A small table in an entryway works, as does the dining room table. And if you're going with cut flowers, be sure to change the water daily, says Ms. Whyte. Dirty water won't impress prospective buyers.
"The first thing they'll see is the dirty water and that creates a negative impression," she says.
Another option is a European dish garden, which combines assorted house plants and African violets. Casual and long-lasting, it won't give off an overpowering scent, says Ms. Whyte.
Jane Oliver, a florist at Brown's Better Flowers, says the only two flowers she would avoid are lilies (stargazers specifically) and hyacinth because they both have a strong scent.
A big bunch of daisies are a welcoming flower, she says, but you can't go wrong with roses either. However, roses are a more personal flower, leaving daisies as the better choice for a home showing.
© The Ottawa Citizen