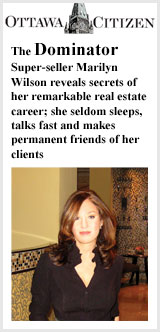 The Ottawa Citizen
The Dominator:
Super-seller Marilyn Wilson reveals secrets of her remarkable real estate career; she seldom sleeps, talks fast and makes permanent friends of her clients
Marilyn Wilson — not just Royal Lepage's queen of Ottawa real estate, but also the company's top seller for all of Eastern Ontario — doesn't need much sleep.
Drive by her Rockcliffe mansion on any given night at 2:30 a.m. and you might just see her in the window, the glow of a computer on her face as she sends e-mail to prospective clients all over the world.
You might also catch her doing the same at 6 a.m. But at that point she's up and starting her day.
Meet her once and you'll be convinced that when she does wake from those rare moments of sleep, she is already midsentence.
The fast-talking real estate agent has plenty to say about what makes her successful. But first her husband Allan points to a telling fact: They are personal friends with many of her former clients.
"That says a lot," says the calm, measured Royal Ottawa Hospital doctor she calls "her rock."
"I make friends for life when I sell people's houses," the effervescent saleswoman adds. "I am extremely down-to-earth. And that's something you need when you're selling real estate."
Ask her if there are any for-sale signs in Rockcliffe that don't bear her name, and she giggles. "A few," she says.
There's no question she's built her base in Ottawa's ritziest enclave but she insists she'll sell anything. "Even a townhouse in Orleans?" she's asked. "Why wouldn't I? I sell lots of townhouses."
It's impossible to survive on Rockcliffe sales alone, although they may have helped to boost Ms. Wilson's dollar amounts and keep her at the top of the tree. She is her company's No. 1 real estate agent in Ottawa and Eastern Ontario and ranked sixth of its 12,000 real estate agents across Canada.
There is no doubt Ms. Wilson dominates Rockcliffe and the luxury homes market across the capital. She was the agent listed for seven of 10 of Ottawa's most expensive homes on the Ottawa market last month. Four of her seven listings were in Rockcliffe Park while the others were at Crystal Bay, Rideau Glen and Cedarhill. But she does more than mansions, she insists. Last year, she sold everything from a $30,000 lot in Dunrobin to a $7-million mansion in Rockcliffe.
Ms. Wilson was born in Toronto, grew up in California and moved back to Canada via Winnipeg when she married Allan Wilson. She studied design and art history at university and the two moved to Ottawa 20 years ago. She began her career in real estate three years later.
"When we moved to Ottawa, I could not believe that this place was so special, that there was a place like this," she recalls, as she sips cappuccino while sitting on a love seat in her own perfect Rockcliffe mansion, which the couple bought two decades ago. "And that's part of the reason I wanted to go into real estate."
The other driving factor was a longtime passion instilled in her by her father who was a commercial real estate investor.
"I got to see a bird's eye view of real estate," she said. "I got to see how deals were done. At seven years old, my father would take me and ask my opinion. He really engaged us."
One of her big secrets has been her website, she says. The original site was dreamproperties.com. She also has rockcliffepark.com, which is linked from the original.
"We started the website in 1996," she says, noting that it was a real pioneer. At the time, other real estate agents had home pages but not fully interactive sites. Indeed she says hers was one of the first real estate websites in Canada.
"I have a network of clients that are local, national and international. And I love Ottawa so much that I'm able to put it on the map because I'm selling Ottawa to clients internationally. We get e-mails from people around the world who love the site. It has been so successful. Dreamproperties.com is a brand name that people just love."
The site gets between 14,000 and 16,000 hits per day, Ms. Wilson says. It's an impressive marketing tool, but that's not all it takes to make it in this business.
"To be successful in real estate, you have to develop relationships with each client. I like to be able to offer honest assessment in any situation and to really meet their needs."
Ms. Wilson notes that real estate agents also have to be intuitive to figure out what a client wants.
"I feel I have good intuition and a lot of empathy, and I think I'm able to match up my network of clients and really make their dreams come true and that's what Dream Properties is all about."
Looking back, Ms. Wilson says the most interesting sale she ever completed was one she finalized last year. She persuaded the U.S. embassy to do a land exchange so that her client, an unnamed "prominent Rockcliffe resident" who had property adjacent to the U.S. government-owned lot, would have one more acre of land.
"My very favourite sale and the one that was the most challenging and interesting was that one. Everyone came out thinking there was so much value."
Although she's keen to show her good record on sales, Ms. Wilson insists she never thinks of her job in terms of number of sales and transactions.
"I never look at real estate like that," she says. "I think that's the key to my success. I just go out and do what I enjoy doing, and I think clients who know me know what I do, and clients who have been satisfied are telling their stories to others."
The Ottawa Citizen
© The Ottawa Citizen